About the Owners – Rick & Angie Antonelli
Ever since she was young, Angie knew early on that helping others was an important part of her life's purpose. As a young wife and mother, she spent many hours researching health and wellness, especially natural therapies, and she used her knowledge to help family and friends.
Drawn to the small-town appeal and focus on family values, Angie and her husband Rick chose to live in scenic St George. While she was raising their young boys, Ricky and Francis, Rick worked in real estate and new construction with Split Rock. For several years, Angie channeled her desire to help others, working at elementary schools and managing volunteers for local charities. As the boys grew older, she realized she was ready for a new challenge. She began looking for an inspiring idea - one that would allow her to combine her passion for helping others with a desire to open a local family business of their own.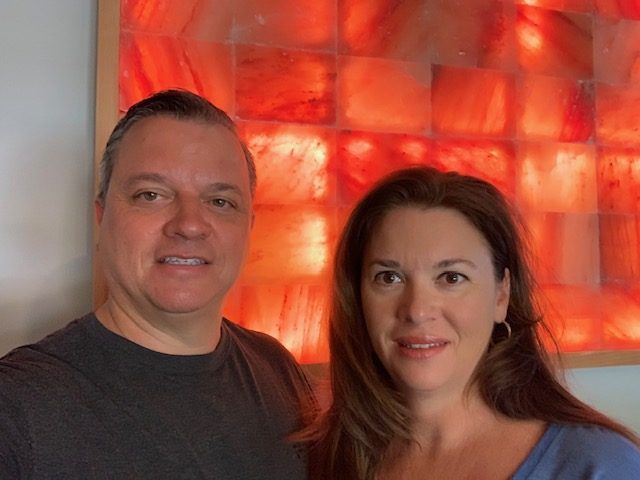 The answer came in early January while on a vacation to Florida. It was there that Angie and Rick heard about Halotherapy and participated in their first salt session. They enjoyed relaxing and unwinding in the local salt spa. After their session, several of the local patrons told them how much Halotherapy had improved their quality of life in significant ways. As she listened, Angie felt that "this is the kind of business I want to bring to Southern Utah."
When they returned home, Angie started researching the many health benefits offered by Halotherapy. She discovered that dry salt aerosol is regularly prescribed as a mainstream breathing therapy in many parts of Europe. Over the last 10 years, Halotherapy has become very popular throughout the US, as more and more people experience the overall healthy effects of breathing salt air.
Once they decided to bring Halotherapy to St George, Rick went to work to finding the perfect space. "In real estate its all about the location. It had to be in the historic downtown area so it would be convenient for the residents of Washington County and surrounding cities. When I showed her 310 E Tabernacle, a cheerful, cozy cottage with lots of grass and big trees it immediately felt right." In mid April 2019 they purchased the building and began to transform it into a warm and welcoming wellness center: Breathe of St. George.
Now open for business, Breathe of St George has already helped new clients experience relief from allergies, hay fever and asthma. They find they are more comfortable, energetic and productive - enhancing every aspect of their lives. And they are feeling even better as they start engaging in the fitness classes that Breathe offers - including yoga, meditation, and body balance. The beautiful Himalayan salt walls and zen music in The Serenity Room help clients to relax from all the stress and screens we deal with on a daily basis. In The Retreat, kids can benefit from Halotherapy while playing in the crushed Himalayan salt on the floor. There's even a private room where clients can relax on a heated Himalayan salt bed to reduce inflammation.
"Everything we are seeing confirms that opening a new Halotherapy center was the right thing to do. With Breathe, I have the opportunity to follow my passion for helping people."